We offer the most competitive prices for HVAC Heating Cooling Air Conditioning products and installation in Arlington – Alexandria – Northern Virginia – Washington DC and Maryland
Air Cleaners Carrier
Call Perry Aire today 703-521-2226!
A HEALTHY RESPECT FOR YOUR HEALTH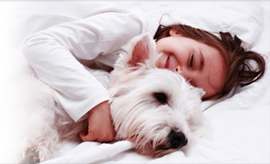 If you've been holding your breath for cleaner air, the wait is over. Our state-of-the-art air purifier systems trap and kill bacteria, viruses, mold spores, allergens and other pollutants in the conditioned air—and keep them out of the air your family breathes.
Small is Big
The award-winning Infinity® air purifier, for example, cleans indoor air as many as 8 times an hour with an enviable MERV rating of 15 and removes pollutants from the air that are up to 18,000 times smaller than the head of a pin.
What does it all mean? You and your family can breathe easy.
Contact your local Carrier® expert for a quick analysis of your indoor air to identify the unseen threats potentially lurking under your nose.

INFINITY® SERIES AIR PURIFIER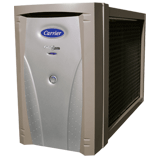 Our award-winning Infinity air purifier doesn't just filter air: Its Captures and Kills™ technology is unforgiving when it comes to airborne pathogens such as bacteria, viruses and mold. Grizzly? Yes—if you're a mold spore. This whole-house air cleaner also re-purifies circulated indoor air as many as 8 times an hour. Those poor pathogens don't stand a chance.
AIR PURIFIER
GAPA
MERV 15 Germicidal
View Product
PERFORMANCE™ SERIES AIR PURIFIER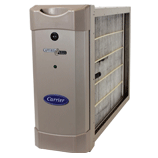 If clean air matters to you, this system may be just what you're looking for. It's the little brother to the Infinity® air purifier designed to be more budget conscious and to fit narrower installation spaces. It also uses Captures & Kills™ technology to continuously filter out pollutants, allergens and pathogens in your home, to leave you with cleaner, healthier air.
AIR PURIFIER
PGAP
MERV 13 Germicidal
View Product
COMFORT™ SERIES EZ FLEX™ CABINET AIR FILTER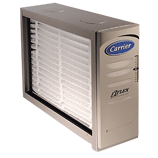 Designed to keep air flowing cleanly and efficiently through your home, this cabinet air filtration product is a convenient and affordable way to improve indoor air quality and system performance. Even replacing the filter is a breeze.
CABINET WITH AIR FILTER
EZXCAB
MERV 10 Standard Filtration
View Product
Back To HVAC Products