We offer the most competitive prices in the Arlington – Alexandria – Northern Virginia
Washington DC and Maryland areas for all our HVAC products & installation services!
Call Perry Aire today 703-521-2226!


WHY YOUR HOME NEEDS INDOOR AIR FILTRATION
Protection you need
A central heating and cooling system offers just the basics with regard to enhanced indoor air quality for you and your family. It is estimated that the air you breathe inside your home is more polluted than the air outside your home.
Beyond simply heating and cooling the air in your home, don't you want great indoor air for your family?
We make it a simple decision with Clean ComfortTM Indoor Air Essentials product solutions.

What does air cleaning do for my home?
Reduces and removes airborne particulates from your home's air. Depending on the air cleaner model installed, it can remove:

Larger particulates (such as household dust, and lint that can cause problems with the mechanical operation of your furnace or air handler).
Small particulates (that could impair the efficient operation of the cooling coil in your central air conditioning system).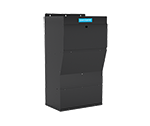 Air Cleaners
WHY YOUR HOME NEEDS INDOOR HUMIDITY CONTROL
Comfort you need
Depending on the geographical location of your home and the time of year, your home could have uncomfortably high or low humidity indoors.
The two basic solutions used for these two conditions are humidifiers and dehumidifiers:
Humidifiers add humidity to the home (typically in the colder months) to improve occupant comfort level, and dehumidifiers remove humidity from the home.
Your home could have problems without humidity control
Using a humidifier, especially in cold, dry winter months, improves indoor comfort throughout the home. A comfortable humidity level can help reduce common symptoms that may be associated with low humidity levels:
Dry skin
Scratchy throat, or
Electrostatic shocks
Increasing your home's relative humidity may also allow you to lower the setting on your thermostat and still provide the same level of comfort. Lowering the thermostat setting saves on heating costs.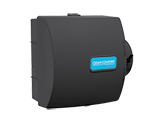 Humidifiers
WHY YOUR HOME NEEDS WHOLE HOME DEHUMIDIFICATION
What does dehumidification do for my home?
Reduces the cold clammy feeling that comes from lowering the temperature on your thermostat in order to reduce the humidity level in your home
Helps mitigate mold growth caused by high humidity in your home
Helps create an environment where dust mites can't survive (when air is maintained below 50% relative humidity*)
Helps protect your hardwood flooring from warping when set to maintain the relative humidity in the range recommended by the hardwood flooring manufacturer
When installed with a DVP Series dehumidistat and a motorized damper, the DV Series dehumidifier can bring fresh, filtered air into your home and dehumidify the air at the same time.
Your home could have problems without dehumidification
If you experience any of the following problems, you may benefit from having a Clean Comfort whole home dehumidifier.
A musty odor in your living areas, basement, or crawl space
You feel "cold and clammy" when you're indoors
Visible mold growth, condensation or water stains on the inside of your home
Cupped wood paneling or warped wood floors
Peeling wallpaper or blistering paint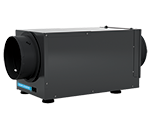 Dehumidifiers
WHY YOUR HOME NEEDS INDOOR AIR PURIFICATION
Basics of purification
Outdoors, the sun's ultraviolet (UV) radiation destroys and deactivates airborne biological and chemical contaminants. Just like the sun's rays, our purification systems' UV light brings the same natural process into your home.
The UVC range of ultraviolet light (with wavelengths of 100 to 280 nanometers) has germicidal activity that deactivates viruses, bacteria and mold by attacking their DNA preventing them from replicating and eventually destroying them.

What does purification do for my home?
UV purification is considered a proven and reliable method for sterilizing indoor air and the surfaces of cooling coils. The result is cleaner, more comfortable air for your family and a cleaner cooling coil to help maintain your system's original performance.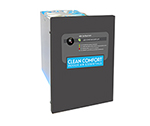 Air Purifiers
WHY YOUR HOME NEEDS INDOOR VENTILATION
Your home could have problems without ventilation
We spend the majority of our lives indoors. And with homes becoming tighter and more energy efficient, they don't "breathe" the way they used to, resulting in the air in your home becoming stale.
Pet smells, cooking odors, and off gassing of household furnishings, like carpets and furniture, combine to create an environment that's not as fresh as you'd like. A Clean Comfort brand VH or VE Series ventilator can provide fresh air to your home while managing your energy costs and comfort, no matter what the elements are like outside.

What does air ventilation do for my home?
The air inside your home may be stale, but it still has "energy value" (warm or cool) that you spent money to condition. And you wouldn't want to just waste that energy in order to get fresh air.
Clean Comfort heat recovery ventilators and energy recovery ventilators introduce fresh air into your home while retaining much of the energy value of the stale air being exhausted from your home.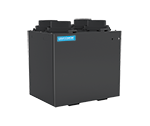 Ventilators
Back to HVAC Products