We offer the most competitive prices for HVAC Heating Cooling Air Conditioning products and installation in Arlington – Alexandria – Northern Virginia – Washington DC and Maryland Air Terminals Carrier
Call Perry Aire today 703-521-2226!
COMFORT FROM THE INSIDE OUT.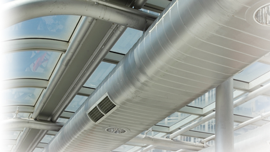 Carrier's Axis™ Overhead Air Terminal offering includes single duct and dual duct, fan powered, and system powered air terminals available with many factory installed options and features, including the perfect control option, to meet your and your building's needs.





AXIS™
35BD
Diffuser Boot 100 – 500 Airflow Range
View Product
AXIS™
35E
Single-duct unit Standard Unit 45 – 7100 Airflow Range
View Product
AXIS™
35J
Single-duct unit Retrofit Unit – 45 – 3700
View Product
AXIS™
35K
Single-duct unit VAV Bypass Terminal – 200 – 4000
View Product
AXIS™
35L
Dual-duct unit VAV Applications – 50 – 7100
View Product
AXIS™
35N
Dual-duct unit Mixing Terminal – 50 – 3700
View Product
MODULINE®
37HS
Diffuser System-Powered – 100 – 400
View Product
AXIS™
45J
Series fan-powered Standard Unit – 90 – 3900
View Product
AXIS™
45K
Series fan-powered Quiet Unit Up to 3000
View Product
AXIS™
45M
Parallel fan-powered Standard Unit Up to 3660
View Product
AXIS™
45N
Parallel fan-powered Quiet Unit Up to 3660
View Product
AXIS™
45Q
Series fan-powered Low Profile Unit Up to 1550
View Product
AXIS™
45R
Parallel fan-powered Low Profile Unit Up to 2066
View Product
Back To HVAC Products