We offer the most competitive prices for HVAC Heating Cooling Air Conditioning products and installation in Arlington – Alexandria – Northern Virginia – Washington DC and Maryland
GAS FURNACES Carrier
Call Perry Aire today 703-521-2226!
LAST TIME YOU WERE THIS COMFORTABLE, YOUR FEET WERE IN THE SAND.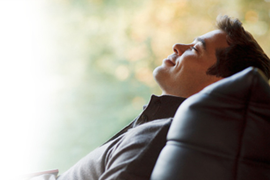 Last time you were this comfortable, your feet were in the sand.
Think of your furnace as the heart of your home. In the winter, it's essential to radiating warmth. During the summer, it plays a vital role in moving refreshing, conditioned air from your cooling system. And all year long, your furnace could provide constant air circulation to keep you more comfortable. Not only that, but many of our furnaces do it all so efficiently your own heart might skip a beat when you see how low your utility bill is.
Knock. Knock. Your ideal furnace is calling.
Some folks are perfectly happy with a basic-functionality furnace and others are looking for all the comfort bells and energy whistles. The good news is, whether you live in North Dakota or South Carolina, we have a range of fuel-efficient furnaces so you can choose the ideal one for your home. And frankly, when it comes to efficiency, it doesn't get much better than our Infinity® 98 modulating gas furnace with Greenspeed™ intelligence for unprecedented comfort and energy economy.

INFINITY® SERIES GAS FURNACE WITH GREENSPEED™ INTELLIGENCE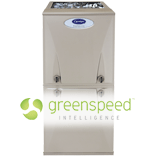 Looking for top-of-the-line comfort, performance and efficiency? As its name suggests, the Infinity series takes them further than they've ever been. But if the top has a top, its name includes Greenspeed intelligence. Within this line, you can find the quietest model* and the most efficient model† of gas furnace you can buy.
And thanks to Greenspeed intelligence, these furnaces offer unprecedented comfort and economy. No wonder they achieved the ENERGY STAR® Most Efficient qualification.
*Based on sound-level testing of the Carrier® 59MN7A060V17-14 and of leading competitive gas furnaces during steady-state, high-fire and low-fire operation. For more information regarding the testing results and procedure, visit www.cacfurnaces.com.
†The 59MN7A060V21-20 is the most efficient gas furnace available at 98.5% AFUE.
INFINITY® 98
59MN7
Up to 98.5% AFUE
View Product
INFINITY® SERIES GAS FURNACES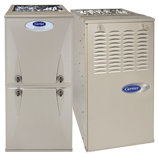 Whether you live in the cold North and need the high-efficiency of a condensing gas furnace or the moderate South and can do just fine with a little less efficiency, you'll still enjoy ultimate comfort with these Infinity series furnaces. Variable-speed blower technology and a two-stage gas valve help make them very quiet, not to mention efficient. If that's not enough, Comfort FanTM technology and other Infinity level features are sure to please. Models include condensing and non-condensing furnaces.
INFINITY® 96
59TN6
Up to 96.7% AFUE
View Product
INFINITY® 80
58CVA
80.0% AFUE
View Product
PERFORMANCE™ SERIES GAS FURNACES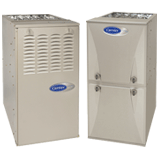 Efficient, quiet, flexible and durable, these powerful furnaces live up to their Performance name every day—no matter where you live.Highly efficient Performance 96 is ENERGY STAR® qualified and lets you enjoy the comfort of variable-speed blower-motor technology. It's Hybrid Heat system® compatible, so you can enjoy the smartest kind of heating savings year after year.
PERFORMANCE™ 96
59TP6
Up to 96.7% AFUE
View Product
PERFORMANCE™ 95
59TP5
Up to 96.7% AFUE
View Product
PERFORMANCE™ BOOST 90
59SP5
Up to 96.5% AFUE
View Product
PERFORMANCE™ 90
59SP2
Up to 92.1% AFUE
View Product
PERFORMANCE™ 80
58CTW
80.0% AFUE
View Product
PERFORMANCE™ BOOST 80
58PHA
80.0% AFUE
View Product
PERFORMANCE™ BOOST 80
58PHB
80.0% AFUE
View Product
COMFORT™ SERIES GAS FURNACES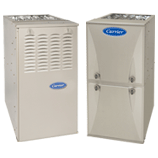 If efficiency is a hot button for you but budget is your primary concern, consider our Comfort 90+% AFUE gas furnaces. These high-efficiency furnaces excel at generating warmth throughout your home—while generating low energy bills though those long winter months.
COMFORT™ 95
59SC5
Up to 95.5% AFUE
View Product
COMFORT™ 92
59SC2
Up to 92.0% AFUE
View Product
COMFORT™ 80
58DLA
80.0% AFUE
View Product
COMFORT™ 80
58STA
80.0% AFUE
View Product
Back To HVAC Products