We offer the most competitive prices for HVAC Heating Cooling Air Conditioning products and installation in Arlington – Alexandria – Northern Virginia – Washington DC and Maryland
Outdoor packaged Rooftop Units Carrier
Call Perry Aire today 703-521-2226!
THE EXPERT CHOICE FOR RETROFIT, REPLACEMENT AND NEW CONSTRUCTION.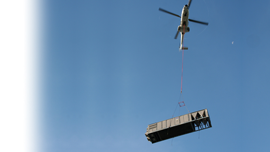 Carrier provides a complete line of packaged rooftop units with Puron® refrigerant including gas heating/electric cooling and electric cooling with optional electric heat to meet demanding HVAC system requirements.







WEATHERMAKER®
48A
Type – Gas heat
Efficiency (EER/SEER or IEER) – 10.3/12.9
Capacity Range, Tons – 20-60
View Product
COMFORT™
48ES
Type – Gas heat
Efficiency (EER/SEER or IEER) – 11.0/13.0
Capacity Range, Tons – 2-5
View Product
COMFORT™
48EZ-A
Type – Hybrid heat
Efficiency (EER/SEER or IEER) – 11.0/13.0
Capacity Range, Tons – 2-5
View Product
WEATHERMASTER®
48HC
Type – Gas heat
Efficiency (EER/SEER or IEER) – 13.0/15.6
Capacity Range, Tons – 3-25
View Product
WEATHERMAKER®
48KC
Type – Gas heat
Efficiency (EER/SEER or IEER) – 12.0/14.1
Capacity Range, Tons – 3-5
View Product
WEATHEREXPERT™
48LC
Type – Gas heat
Efficiency (EER/SEER or IEER) – 13.5/20.8
Capacity Range, Tons – 3-23
View Product
WEATHEREXPERT™
48N
Type – Gas heat
Efficiency (EER/SEER or IEER) – 10.9/14.4
Capacity Range, Tons – 75-150
View Product
WEATHERMASTER®
48P
Type – Gas heat
Efficiency (EER/SEER or IEER) – 10.6/12.7
Capacity Range, Tons – 30-100
View Product
WEATHERMAKER®
48TC
Type – Gas heat
Efficiency (EER/SEER or IEER) – 11.0/13.0
Capacity Range, Tons – 3-27.5
View Product
PERFORMANCE™
48VG-A
Type – Gas heat
Efficiency (EER/SEER or IEER) – 12.0/16.0
Capacity Range, Tons – 2-5
View Product
PERFORMANCE™
48VL-A
Type – Gas heat
Efficiency (EER/SEER or IEER) – 12.0/14.0
Capacity Range, Tons – 2-5
View Product
PERFORMANCE™
48VR-A
Type – Hybrid heat
Efficiency (EER/SEER or IEER) – 12.0/15.5
Capacity Range, Tons – 2-5
View Product
PERFORMANCE™
48VT-A
Type – Hybrid heat
Efficiency (EER/SEER or IEER) – 12.0/14.0
Capacity Range, Tons – 2-5
View Product
WEATHERMAKER®
50A
Type – Electric heat, No heat
Efficiency (EER/SEER or IEER) – 10.5/13.2
Capacity Range, Tons – 20-60
View Product
COMFORT™
50ES-A
Type – Electric heat, No heat
Efficiency (EER/SEER or IEER) – 11/13
Capacity Range, Tons – 2-5
View Product
COMFORT™
50EZ-A
Type – Electric heat, No heat
Efficiency (EER/SEER or IEER) – 11/13
Capacity Range, Tons – 2-5
View Product
WEATHERMASTER®
50HC
Type – Electric heat, No heat
Efficiency (EER/SEER or IEER) – 13.0/15.6
Capacity Range, Tons – 3-25
View Product
WEATHERMASTER®
50HCQ
Type – Heat pump
Efficiency (EER/SEER or IEER) – 12.8/15.8
Capacity Range, Tons – 3-10
View Product
WEATHERMASTER®
50KC
Type – Electric heat, No heat
Efficiency (EER/SEER or IEER) – 12.0/14.1
Capacity Range, Tons – 3-5
View Product
WEATHERMASTER®
50KCQ
Type – Heat pump
Efficiency (EER/SEER or IEER) – 12.2/14.3
Capacity Range, Tons – 3-5
View Product
WEATHEREXPERT™
50LC
Type – Electric heat, No heat
Efficiency (EER/SEER or IEER) – 13.7/21.0
Capacity Range, Tons – 3-23
View Product
WEATHEREXPERT™
50N
Type – Electric heat, Hydronic heat, No heat
Efficiency (EER/SEER or IEER) – 11.1/14.6
Capacity Range, Tons – 75-150
View Product
WEATHERMASTER®
50P
Type – Electric heat, Hydronic heat, No heat
Efficiency (EER/SEER or IEER) – 10.9/13.0
Capacity Range, Tons – 30-100
View Product
WEATHERMAKER®
50TC
Type – Electric heat, No heat
Efficiency (EER/SEER or IEER) – 11.2/13.0
Capacity Range, Tons – 3-27.5
View Product
WEATHERMAKER®
50TCQ
Type – Heat pump
Efficiency (EER/SEER or IEER) – 11.2/13.4
Capacity Range, Tons – 3-20
View Product
PERFORMANCE™
50VG-A
Type – Electric heat, No heat
Efficiency (EER/SEER or IEER) – 12.0/16.0
Capacity Range, Tons – 2-5
View Product
PERFORMANCE™
50VL-A
Type – Electric heat, No heat
Efficiency (EER/SEER or IEER) – 12.0/14.0
Capacity Range, Tons – 2-5
View Product
PERFORMANCE™
50VR-A
Type – Heat pump
Efficiency (EER/SEER or IEER) – 12.0/15.5
Capacity Range, Tons – 2-5
View Product
PERFORMANCE™
50VT-A
Type – Heat pump
Efficiency (EER/SEER or IEER) – 12.0/14.0
Capacity Range, Tons – 2-5
View Product
COMFORT™
50ZHB
Type – Electric heat, No heat
Efficiency (EER/SEER or IEER) – 11.0/13.0
Capacity Range, Tons – 2-5
View Product
COMFORT™
50ZPB
Type – Electric heat, No heat
Efficiency (EER/SEER or IEER) – 11.0/13.0
Capacity Range, Tons – 2-5
View Product
Back To HVAC Products