We offer the most competitive prices for HVAC Heating Cooling Air Conditioning products and installation in Arlington – Alexandria – Northern Virginia – Washington DC and Maryland
VARIABLE REFRIGERANT FLOW
Call Perry Aire today 703-521-2226!
WITH CARRIER, VARYING CAPACITY EQUALS CONSISTENT COMFORT AND EFFICIENCY.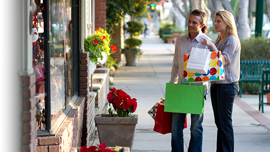 Carrier provides a complete line of VRF heat recovery and heat pump products, which allow for the easy installation and combination of up to 40 indoor fan coil units with a single outdoor condensing unit. Each fan coil unit can be independently controlled by varying the refrigerant flow to vary the capacity being delivered to each zone, making VRF one of the most effective and efficient types of systems available.



MMC1
Type – Fan Coil
Description – Indoor ceiling unit
Capacity Range, Btuh 18000 – 42000
Capacity Range, Tons 1.5 – 3.5
View Product
MMD4
Type – Fan Coil
Description – Concealed duct, high static pressure
Capacity Range, Btuh 30000 – 48000
Capacity Range, Tons 2.5 – 4.0
View Product
MMDB
Type – Fan Coil
Description – Indoor concealed duct
Capacity Range, Btuh 7500 – 48000
Capacity Range, Tons .6 – 4.0
View Product
MMDP
Type – Fan Coil
Description – Indoor slim duct
Capacity Range, Btuh 7500 – 18000
Capacity Range, Tons .6 – 1.5
View Product
MMK3
Type – Fan Coil
Description – Indoor high wall
Capacity Range, Btuh 7000 – 24000
Capacity Range, Tons 0.6 – 2.0
View Product
MMU2
Type – Fan Coil
Description – Indoor 4-Way Cassette
Capacity Range, Btuh 18000 – 42000
Capacity Range, Tons 1.5 – 3.5
View Product
MMUM
Type – Fan Coil
Description – Indoor 4-Way Cassette
Capacity Range, Btuh 7000 – 18000
Capacity Range, Tons 0.6 – 1.5
View Product
MMYF
Type – Heat recovery
Description – Heat recovery
Capacity Range, Btuh 72000 – 240000
Capacity Range, Tons 6 – 20
View Product
MMYH
Type – Heat recovery
Description – Heat recovery
Capacity Range, Btuh 72000 – 240000
Capacity Range, Tons 6 – 18
View Product
Back To HVAC Products